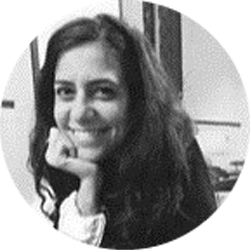 Mariana Auad Proença
visiting researcher 2022
---
Mariana holds a PhD at Politecnico di Milano (2023), Master's degree (2018) in Architecture of Technology at School of Architecture and Urbanism of University of São Paulo (FAUUSP) and Bachelor's degree (2010) in Architecture and Urbanism at Mackenzie Presbyterian University (FAU Mack).
Participated Member of Sustainable Building Working Group (2016) at Superintendence of Environmental Management of USP (SGA- USP), contributing to the development of sustainable policies of the University. Attended on WC2 University Network (World Cities World Class) Summer Symposium Berlin, representing USP at the Eco Campus Theme (2016) and Summer Symposium São Paulo as Assistant at Eco Campus theme (2017). Participated Member at Latitudes Global Studio (2016-2018), a cooperation project between School of Architecture and Built Environment of University of Westminster and FAUUSP.
Currently working on the theme of The Potential Role of Universities in Urban Regeneration of Fragile Territory, which explores social and civic engagement as a strategy that universities are adapting with local communities to seek urban regeneration and more inclusive cities. Developing a collaborative research with FA-ULisboa (URBinLAB) to structure a report of the NoVoid project on the social approach with the university and society.