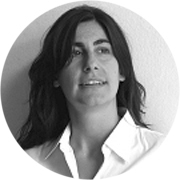 Caterina Anastasia
since 2017
---
Degree in Architecture (Università degli Studi di Firenze; Italy);
Master's Degree (Departamento de Proyectos Arquitectónicos / Universidad Politéctica de Cataluña; Spain);
PhD in Urbanism, International Doctorate Mention, (Departamento de Urbanismo y Ordenación del Territorio / UPC; Spain), second academic prize awarded by Centro Italiano per la Riqualificazione Fluviale (CIRF); and Fundação para a Ciência e a Tecnologia Post-Doctoral Fellowship, research project "Through the river landscapes. The City of the Tagus Estuary" at CIAUD (Faculdade de Arquitectura / Universidade de Lisboa).
Developed research activity at Universidad Politécnica de Cataluña (Spain), Universidad Politécnica de Madrid (Spain), Hanoi Architectural University (Vietnam) and Politecnico di Torino (Italy).
Collaborated in European projects, presented papers and posters at several national and international conferences and I have been invited speaker at postgraduate courses.
She is free-lance architect since 2001, grand-prize International Union of Architects "Celebration of cities 2" (2006).
Her Post-Doctoral Research Project is entitled Through the river landscapes. The City of the Tagus Estuary.
Beyond the administrative boundaries often materialized by the river, this project focuses on watercourses and riverbanks of the Tagus Estuary River Basin as a geographical centre of the Lisbon Metropolitan Area. The goal is to understand, through drawings, how water can be the 'new' centre of the 'city of two banks': the City of the Tagus Estuary (CTE). Water can function from being limit and barrier to the strongest binder, 'natural' link and shared public space of the CTE.