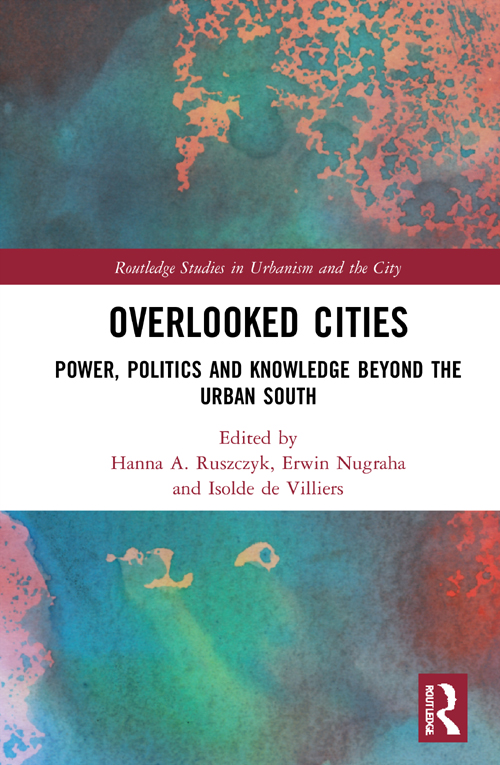 Novo livro "Overlooked Cities – Power, Politics and Knowledge beyond the Urban South"
Publicado em Dezembro de 2020, o livro Overlooked Cities – Power, Politics and Knowledge beyond the Urban South, editado por Hanna Ruszczyk, Erwin Nugraha e Isolde de Villiers, reúne um conjunto de reflexões sobre cidades pequenas e regionais no Sul Global. O ponto de partida deste livro foi numa sessão sobre Urban South's medium-sized cities: emerging research, onde participaram a maioria dos autores do livro, e onde se concluiu que é importante dar mais atenção e aprender com as experiências destas cidades esquecidas.
No capítulo Post-conflict Dili: an overlooked urbanscape reaching out for development a doutoranda Joana de Mesquita Lima e o Prof. João Pedro Costa (investigadores do URBinLAB) abordam o impacto da falta de atenção ao ordenamento do espaço urbano da cidade de Dili. Refletindo sobre alguns dos factores que contribuem para a desordem da cidade, organizam o argumento em torno da governação urbana desconexa, do crescimento urbano desconectado, e de intervenções desarticuladas. Concluem realçando a necessidade de haver intervenções nas várias escalas de governação, de forma intersectorial e coordenada, e apelando para que a cidade passe a ser produzida através do acesso à mesma.
"The right of individuals to access the city and its networks, need for those in power to generate an impact on the urban environment, changing and reshaping the process of urbanisation so that territory may be produced through access, rather than through a lack of it."
Link para a editora aqui.