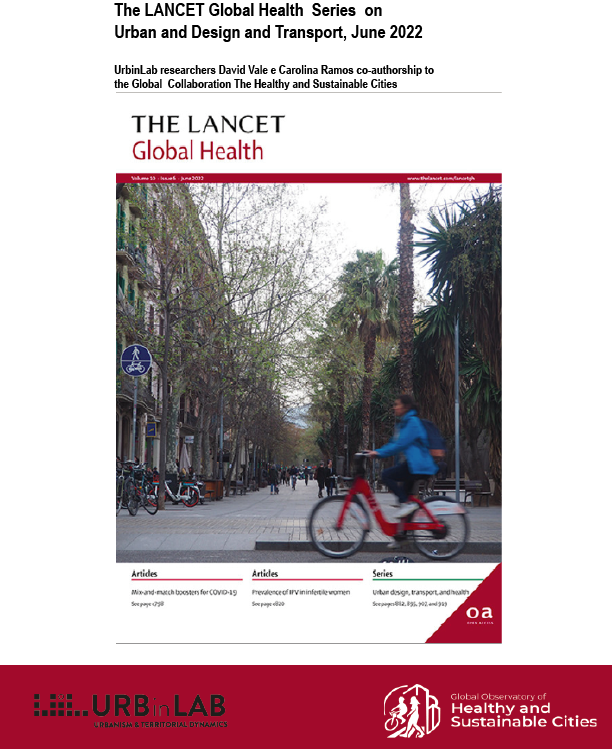 Artigos Publicados: The Urban Design, Transport, and Health series em The Lancet Global Health
Foi publicada no dia 11 de maio de 2022 uma nova série de artigos The Urban Design, Transport, and Health series pela The Lancet Global Health com co-autorias dos investigadores doURBinLAB, Professor David Vale, doutoranda Carolina Ramos, e também a Professora Maria Paula Santos da Universidade do Porto.
A série de artigos é resultado da colaboração de investigação científica global multi-institucional e transdisciplinar denominada The Health and Sustainable Cities. A colaboração envolveu mais de 80 investigadores, 25 cidades em 19 países, sob a coordenação do Comitê Executivo liderado pela investigadora da RMIT University Melbourne Billie Giles-Corti.
Além da série, foi lançado o Relatório de Indicadores Urbanos Saudáveis e Sustentáveis:
Comparações com 25 cidades a nível internacional: Lisboa, Portugal.
Higgs, Carl; Lowe, Melanie; Adlakha, Deepti; Arundel, Jonathan; Boeing, Geoff; Cerin, Ester; et al. (2022): Lisbon, Portugal—Healthy and Sustainable City Indicators Report: Comparisons with 25 cities internationally. RMIT University. Report. https://doi.org/10.25439/rmt.19614051.v1
Local Colaborators (Lisbon): Carolina Ramos, Andreia Pizarro, Maria Paulo Santos, David Vale & Claudia Viana.
Mais informações sobre the Healthy and Sustainable Cities: https://www.healthysustainablecities.org
Acesse a série The Lancet Global Heath: https://www.thelancet.com/series/urban-design-2022