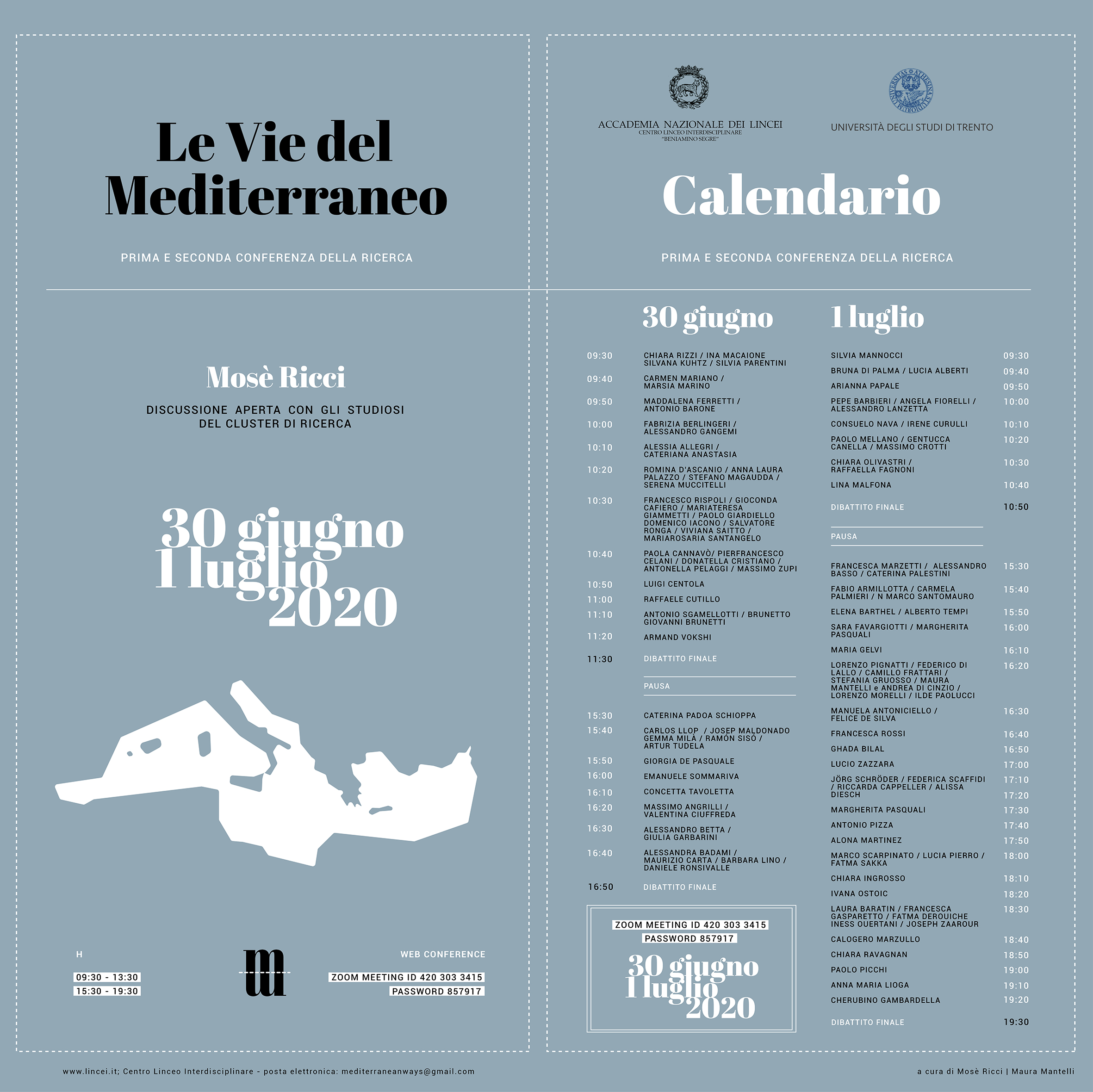 MedWays / Le Vie del Mediterraneo: Pecha Kucha Webinar
June 30th and July 1st 2020
Webinar with the participation of Alessia Allegri and Caterina Anastasia, from URBinLAB.
Please click the link below to join the ZOOM webinar:
https://us02web.zoom.us/j/4203033415?pwd=SlAvTGZ4aW8rc1Uyalo0TGR5Y3k4UT09
ID riunione: 420 303 3415
Password: 857917
9.30/13.30
15.30/19.30
You could kindly connect since 9.20 Rome time
The Mediterranean can be imagined as a single habitat, in a physical sense, even if not referred to a traditional urban figure. Not a void full of water between three continents, but a settlement with an impressive central magnetic field. As Plato wrote in the Fedone "we all are like frogs around a pond" ... The ability to attract social, tourist and residential flows, the intensity of internal relationships - both material and non-, the common identities of the populations that recognize in the landscape the main anthropological and cultural sign, the history legacies, but also the conflicts, the impetus of change and the long times of the social traditions, ..., all this generates an extraordinary cultural cohesion towards a single living environment that everyone consciously calls Mediterranean.
The Mediterranean Ways (MW) -routes but also in the multiple sense of this word methods, styles, conditions- that this research intends to explore are slow, ecological and landscape infrastructures that tell the fragile territories and realize the identity of the Mediterranean and its social, natural and cultural heritage. They can become devices for the prevention of anthropic and environmental risk, for the protection of landscape values, for the development of sustainable tourism. MW are solid or not material paths between iconographic or literary narratives, popular traditions, sea, land and food cultures, spaces of beauty and happiness.